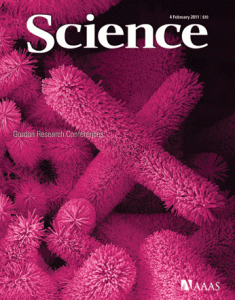 To celebrate 10 years since the back-to-back publications of complete human genomes in Science and Nature, Science has published series of articles looking back at the last 10 years of genomics, and forward to the future. The article contains short essays from Francis Collins and Craig Venter, the former talking about some of the successes of medical sequencing (including giving a name and photograph to the exome-sequenced IBD patient I discussed a few weeks ago), and the latter discussing how far we still have to go before genomics can reach its potential. Baylor's Richard Gibbs talks about how the large-scale technical discipline of genomics and the biological subject of genetics are starting to re-merge, after the Human Genome Project saw the two diverging, and there is an oddly inspiring comment from theologian Ronald Cole-Turning about how genomics is redefining our vision of humanity.

Of particular interest is an article by Eliot Marshall on why genomics hasn't yet had a large effect on medical practice, and what needs to be done to allow the genomic revolution to trickle into medical care. He argues that scientists and doctors need to meet each other half way; scientists need to focus more on showing the direct clinical utility of genomics, whereas doctors need to be more ready to accept new technologies and discoveries, and adapt the way they practice medicine to make full use of them. [LJ]
This week Complete Genomics announced that they are publicly releasing 60 high-coverage genomes for free download. The genomes are of European CEU individuals, who have also been sequenced at low-coverage as part of the 1000 Genomes Project. Public data is always good, especially high quality data, and it will be interesting to see how the accuracy of this high-coverage sequencing compares to the low-coverage 1000 Genomes pilot data. [LJ]
Elaine Westwick, who blogs about the implications of genetic testing for parents, has done an analysis of our reader survey results from last year, with an eye to the relationship between parenthood and opinions on DTC genomics. There are some suprising results; notably, men seem to become more cautious about genetic testing after having children, whereas women show far less change, and may even become less cautious.
Digging around Elaine's blog a bit more, I also found a great post in which she answers all of the Human Genomics Consortium's list of questions that you should ask yourself purchasing a DTC genetic test. Well worth a read. [LJ]
Last week we included a link to a review article discussing the issue of whether genetic data should be returned to research participants.  Misha Angrist briefly raised some objections to the article in the comments and he now elaborates on his point of view in a guest post over at Genetic Future (with interesting additional thoughts on the topic from Mark Robson and Keith Grimaldi in the comments thread ). [KIM]