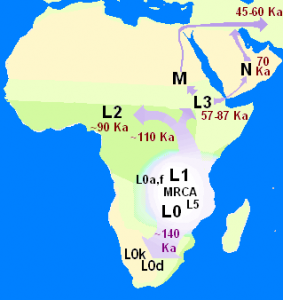 One thing we have done in Genomes Unzipped is to report on what is on the market for consumers interested in getting information about their genetic data. While we have found generally positive things to say about this market, there are also many exaggerated claims especially when it comes to making inferences about an individual's ancestors from direct-to-consumer genetics companies. An example came up last summer with a BBC radio 4 interview of Alistair Moffat of Britain's DNA.  This post will discuss the scientific basis of some of the claims made in the interview.
But first of all, what is my motivation to write this post? After all, there are quite a few genetic ancestry companies like Britain's DNA, making similar claims. Why specifically discuss this BBC radio 4 interview? The main reason is that listening to this radio interview prompted my UCL colleagues David Balding and Mark Thomas to ask questions to the Britain's DNA scientific team; the questions have not been satisfactorily answered. Instead, a threat of legal action was issued by solicitors for Mr Moffat. Any type of legal threat is an ominous sign for an academic debate. This motivated me to point out some of the incorrect, or at the very least exaggerated, statements made in this interview. Importantly, while I received comments from several people for this post, the opinion presented here is entirely mine and does not involve any of my colleagues at Genomes Unzipped.

To give some background, Alistair Moffat (AM), who is also the rector of the University of St Andrews, is involved in a trio of related businesses:  Britain's DNA, Scotland's DNA and Ireland's DNA. These companies will type Y and mtDNA markers for their customers and provide them with an interpretation of their ancestry based on these results. The cost of the service is £170 for either Y or mtDNA testing; there is a reduction if you take both.  This price is somewhat comparable (actually a bit higher) than other companies generating similar data (for example familytreedna.co.uk). A claim made in the BBC radio 4 interview is that this cost is massively subsidized but given that the test is not particularly cheap it is not clear what this statement really means. I will get back to this issue at the end of this post.
A bit of clarification on chromosome Y and mtDNA: these data represent only a small portion of the human genome and only provide information about the male (fathers of fathers of fathers…) and female (mother of mothers of mothers…) lineages. As an illustration, going back 12 generations (so 300 years approximately) we each have around 4,000 ancestors. mtDNA and chromosome Y DNA only provide information about 2 of them. So these markers provide a very limited window into our ancient ancestry. As a comparison, the genome-wide data provided by companies like 23andMe is much more exhaustive. This is however not a central point of this post. Britain's DNA is very explicit about the data they provide, but it is important for readers of this post to be aware of this limitation.
Before discussing this radio interview, I will make two last comments. Firstly, this post is not a review of the commercial product, which I have neither purchased nor tested. It is plausible that AM genuinely misunderstood scientific facts and that his team is more careful with the interpretation of the data. A proper review of the product would be the topic of another post. Secondly, what makes this interview a disaster is also the BBC host, Jim Naughtie, who asked no sceptical, probing or challenging question in the face of claims made by AM that many scientifically minded listeners might recognise as dubious (see below). This is very disappointing for such an influential radio programme with a broad audience: Naughtie seems to have taken the view that because it was science he couldn't possibly be expected to probe, but if nothing else a broadcaster can always ask "what is the evidence?"
Now after this long introduction, let us go through some of the statements made by AM in the BBC radio 4 interview. An ongoing theme of the interview is the link with biblical facts and how some of his findings are consistent with a biblical interpretation. So AM starts with:
"It has been posited by scientists for about 20 years that Adam and Eve really existed. They  may never have met, but they really existed".   
This sort of statement starts the interview on the wrong foot. Surely, basic population genetics provides some basis for concepts interpretable as "Adam" and "Eve" if we can assume that AM is referring  to the most recent common ancestor at the mtDNA and at the Y chromosome. The existence of such a common ancestor is an obvious fact for population geneticists, so it is pointless to mention any time such as 20 years for scientists  "positing" what is simply a matter of definition. And while one can define something that looks like the concept of Adam and Eve, there is really nothing particularly special with these individuals. The human genome must have a large number of "ancestors" at various genomic positions. mtDNA and Y chromosome represent only a small portion of the human genome, and being the ancestor at either of these locus cannot be interpreted as supporting any biblical interpretation.
"What happened was a kind of genetic bottleneck – around 70 thousand BC an Indonesian  volcano called mount Toba blew itself to smithereens and it was almost a species extinction  event and so all the other lineages apart from these two, apart from Adam and Eve were  destroyed".   
While the Toba eruption may not be controversial, its effect on human population size and  on patterns of genetic variation certainly is. More importantly, no matter how devastating  its effects were, there is no reason to believe that this event caused all lineages apart from those of "Adam" and "Eve" to be destroyed, and indeed it is highly unlikely that this was the  case.
After this general introduction, AM moves on to describe how this relates to the Britain's DNA results:
"And what happened with the Britain's DNA project is that about 4 or 5 weeks ago we  discovered a remarkable individual, a Mr Ian Kinnaird from Caithness and he has Eve's DNA  – he's only two removed from Eve … he carries a marker called L1b which is only two  mutations different from what Eve's marker must have been … he's Eve's grandson …".
Firstly, while we discuss above that one can put some meaning to the concept of "Eve" in population genetics, this is far removed from the biblical interpretation implied here. Secondly, while there has been some prior attempts to estimate Eve's mitochondrial DNA sequence, there is quite some uncertainty about these sequence. Lastly, being two mutations away from Eve is highly implausible: we are all separated from Eve by the same amount of time and approximately the same number of generation. Given the high mutation rate of mtDNA, I strongly suspect that there is something technically wrong with this computation (but of course I have not seen these data).
"..but we found Sheban DNA –a marker called HV– which we didn't expect to find, and I say we've got nine people who…"
There is no solid scientific justification for claiming that the HV marker (which is usually referred to as haplogroup rather than "marker") corresponds to "Sheban DNA". We don't know what the haplogroup of the Queen of Sheba was, this haplogroup is dispersed in the Middle East and other regions and it is not unsurprising to find individuals with this haplogroup in the UK.
In fact this is an opportunity to address a key issue with that set of interpretations, which has been labelled as "interpretative phylogeography". The underlying rationale that is behind these statements is that a haplogroup must have originated from the point of the world where it is most commonly found today. While this may be true in some cases, there are many reasons why this can be incorrect. In particular, random drift of alleles or population migration can easily make allele frequencies vary extensively, which will cloud that signal. Moreover, our knowledge of the world's genetics is limited and some population have been studied much more than others, hence are more likely to be assigned a "founding role".
"Men with the name Cohen, 97%, a huge number, share the same marker…".  
A UCL colleague (Mark Thomas) was the first author on the original paper that estimated a common ancestry date for the majority of Cohanim (Thomas MG, Skorecki K, et al (1998) Origins of Old  Testament priests. Nature 394:138‐140). While the data support some shared haplogroup among Cohanim individuals, the numbers are nowhere near 97%. This haplogroup is also found in many Jewish and non-Jewish individuals who do not have that last name. Hence such results are difficult to interpret.
"…they call themselves the sons of Aaron, the first high priest, and so as I say, the Bible, through the Britain's DNA project  and other research is really beginning to come alive…".
This statement recapitulates some of the extrapolations discussed above. While putting genetic data in that biblical context is attractive, there are few scientific facts to support that interpretation. And in any case, Britain's DNA has not contributed to these research questions, unlike what this statement seems to imply.
"we found that 33% of men are closely associated to the founding lineages of Britain "
One cannot define reliably what the "founding lineages of Britain" are. This is a concept that is hard to define and even if it was defined properly, we probably could not assign one or several haplogroups to this population. This is another example of interpretative phylogeography, for which broad conclusions on population ancestry are drawn from allele frequencies in a limited number of modern populations.
"..we found people that have got Berber and Tuareg ancestry from the Saharan nomads"
Again, this is not something that can be concluded from the DNA data generated by Britain's DNA. Perhaps AM means that he found people carrying a haplotype that is today present in the Berber and Tuareg, and no doubt also in other populations? Importantly, genetics of Berber and Tuaregs have been studied in more details than other populations, which can bias this inference. Because of the extensive migrations of human populations, we can only make guesses about where that ancestor was.
To summarize, human ancestry is a complex process with many unknowns. mtDNA and Y markers provide some interesting information about this ancestry, but nothing like what can be obtained from genome-wide data. But more importantly, one cannot link allele frequencies in modern population with definitive statements about where these alleles "originated". This extrapolation cannot be supported by scientific studies, and therefore many of the claims made in the AM interview are not substantiated.
Lastly, going back to a comment I made earlier, I was surprised by AM's statement: "we subsidize it massively", when referring to Britain's DNA product. As far as I know, such mtDNA and chromosome Y genotype tests can be bought from other businesses at a comparable, if not lower, prices. It therefore would have been helpful to explain what these subsidies are, and their exact extent. Is a grant agency providing some funding to support the company for example? This question matters because it is important to clarify the aims, even if commercial and scientific can sometimes be intertwined. There is nothing wrong about running a DTC genetic ancestry business of course, but one needs to state it clearly.