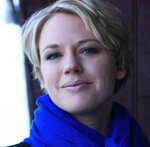 Dr. Tuuli Lappalainen is a postdoctoral researcher at Stanford University, where she works on functional genetic variation in human populations and specializes in population-scale RNA-sequencing. She kindly agreed to write a guest post on her recent publication in Nature, "Uncovering functional variation in humans by genome and transcriptome sequencing", which describes work done while she was at the University of Geneva. -DM
In a paper published online today in Nature we describe results of the largest RNA-sequencing study of multiple human populations to date, and provide a comprehensive map of how genetic variation affects the transcriptome. This was achieved by RNA-sequencing of individuals that are part of the 1000 Genomes sample set, thus adding a functional dimension to the most important catalogue of human genomes. In this blog post, I will discuss how our findings shed light on genetic associations to disease.
As genome-wide studies are providing an increasingly comprehensive catalog of genetic variants that predispose to various diseases, we are faced with a huge challenge: what do these variants actually do in the cell? Understanding the biological mechanisms underlying diseases is essential to develop interventions, but traditional molecular biology follow-up is not really feasible for the thousands of discovered GWAS loci. Thus, we need high-throughput approaches for measuring genetic effects at the cellular level, which is an intermediate between the genome and the disease. The cellular trait most amenable for such analysis is the transcriptome, which we can now measure reliably and robustly by RNA-sequencing (as shown by our companion paper in Nature Biotechnology).
In this project, several European institutes of the Geuvadis Consortium sequenced mRNA and small RNA from lymphoblast cell lines from 465 individuals that are in the 1000 Genomes sample set. The idea of gene expression analysis of genetic reference samples is not new (see e.g. papers by Stranger et al., Pickrell et al. and Montgomery et al.), but the bigger scale and better quality enables discovery of exciting new biology.
Continue reading 'Uncovering functional variation in humans by genome and transcriptome sequencing'