To celebrate the end of the blogging year here at Genomes Unzipped, we wanted to spend a bit of time reminiscing about the papers we enjoyed the most in 2010. Feel free to add your own suggestions in the comments!
Joe: Mice, men, and PRDM9. A key goal in evolutionary biology is to identify the mechanisms leading to speciation. One way to get at that goal is to identify genes that cause sterility or reduced fitness in hybrids between species or diverged populations. In mammals, exactly one such gene has been identified to date: the DNA-binding protein PRDM9. This year, three groups working on a seemingly different problem–deciphering the molecular mechanisms by which recombination shuffles genetic variation between generations–stumbled across an important gene in this process: PRDM9. Variation in this gene influences recombination patterns in both mice and humans, and is responsible for the dramatic differences in recombination patterns between humans and chimpanzees. Is it a simple coincidence that a gene which influences recombination also appears to have a role in speciation? Time will tell.
Parvanov et al. (2010) Prdm9 Controls Activation of Mammalian Recombination Hotspots. Science. DOI: 10.1126/science.1181495.
Baudat et al. (2010). PRDM9 Is a Major Determinant of Meiotic Recombination Hotspots in Humans and Mice. Science. DOI: 10.1126/science.1183439.
Myers et al. (2010). Drive Against Hotspot Motifs in Primates Implicates the PRDM9 Gene in Meiotic Recombination. Science. DOI: 10.1126/science.1182363.
Daniel: Whole-genome sequencing to develop personalised cancer assays. The area of medicine where the transforming power of new DNA sequencing technologies is moving the fastest is in cancer diagnostics and therapy. There were many studies relevant to this field in 2010 (with a fair proportion featuring on the excellent MassGenomics blog), but this paper was a simple, elegant example: the authors performed low-coverage whole-genome sequencing of four tumour samples, identified large genomic rearrangements present in the tumour cells but not in the patient's healthy tissue, and then designed personalised, quantitative assays measuring the proportion of cells carrying these rearrangements in the patients' blood. These assays allowed them to track, almost in real time, how the patients' cancers responded to various therapies, like so: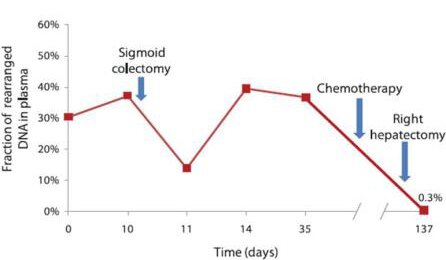 Leary et al. (2010) Development of personalized tumor biomarkers using massively parallel sequencing. Science Translational Medicine. DOI: 10.1126/scitranslmed.3000702.
Continue reading 'Our favourite papers of 2010'