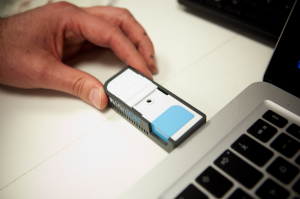 The Advances in Genome Biology and Technology (AGBT) conference, one of the main go-to destinations for those who get excited by DNA sequencing technology, is currently going down in Florida. Sadly, no-one from GNZ could make it this year, but we are keeping up with the various announcements about new genomics tech as best we can. One that caught our attention was the announcement of a brand new sequencing machine from a company that has previously kept very quiet about its technology.
Oxford Nanopore, who we have written about before, today announced two new sequencing machines to come out this year. The announcement has caused quite a buzz amoungst, well, everyone. Nature, New Scientist, GenomeWeb, BioIT World and Forbes all have reported on it, and bloggers Nick Loman and Keith Robison have also had a chance to talk to some of the Oxford Nanopore peeps about their new toys.
A lot of the interest has come from the (very cool) MinION, a tiny, disposable USB-key sequencer (shown in the picture above) that can sequence about a billion base pairs of DNA, and cost around $500-$900 each. The applications of this are endless – the ability to pick up a bit of biological matter, mix it with a few chemicals, and read whatever DNA is in it, could help with diagnostics, epidemiology, ecology, forensics. It is also (though not quite) the price where hobbyists could consider having a play; perhaps in a few years plug-and-play DIY genetics could be a possibility.
Less immediately striking, but still just as interesting, is the GridION sequencing machine. This is the work-horse of the nanopore sequencing world, made for reading lots of DNA, and scaling up to massive sequencing centers. Obviously, many scientists are going to be very interested in many of the features (notably, the ability to read very long pieces of DNA, a trick that has previously been more-or-less impossible to do reliably). However, what will this announcement mean for those of us who are interested in personal genomics?
Continue reading 'Making sequencing simpler with nanopores'