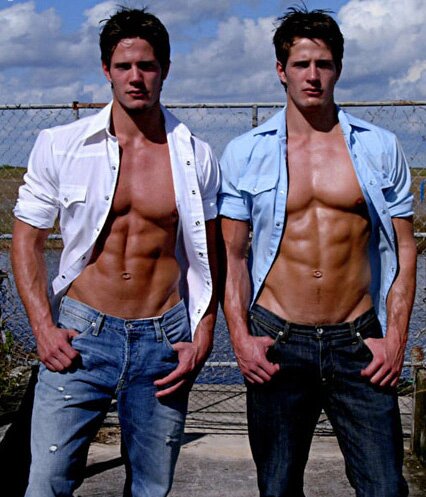 Last week, a post went up on the Bioscience Resource Project blog entited The Great DNA Data Deficit. This is another in a long string of "Death of GWAS" posts that have appeared around the last year. The authors claim that because GWAS has failed to identify many "major disease genes", i.e. high frequency variants with large effect on disease, it was therefore not worthwhile; this is all old stuff, that I have discussed elsewhere (see also my "Standard GWAS Disclaimer" below). In this case, the authors argue that the genetic contribution to complex disease has been massively overestimated, and in fact genetics does not play as large a part in disease as we believe.
The one particularly new thing about this article is that they actually look at the foundation for beliefs about missing heritability; the twin studies of identical and non-identical twins from which we get our estimates of the heritability of disease. I approve of this: I think all those who are interested in the genetics of disease should be fluent in the methodology of twin studies. However, in this case, the authors come to the rather odd conclusion that heritability measures are largely useless, based on a small statistical misunderstanding of how such studies are done.
I thought I would use this opportunity to explain, in relative detail, where we get our estimates of heritability from, why they are generally well-measured and robust, and real issues need to be considered when interpreting twin study results. This post is going to contain a little bit of maths, but don't worry if it scares you a little, you only really need to get the gist.


The Standard GWAS Disclaimer
The first thing to say, and this argument is really starting to get old, is that it is crazy to call GWAS an unqualified failure, regardless of how much heritability is left unexplained, and how good prediction is or is not. Many diseases have had a massive boost from the dozens of new variants associated with them via GWAS; even if they cannot effectively predict risk, they do effectively shed light on the molecular biology of the disease. Beyond this, GWAS results are also shedding some light (finally!) on how non-coding variation leads variation in phenotype, via very interesting studies that are tying GWAS results into high-throughput non-coding annotation (e.g the ENCODE project). We can also add Mendelian randomisation to the mix. Even if GWAS results aren't (yet) directly applicable in the clinic, we will be seeing improved treatment and care in the form of better understanding of the diseases, including their environmental, molecular and genetic causes. In fact, the structure of disease risk that GWAS has uncovered (a large number of low effect variants) turns out to be far more useful for medical science, if less useful for clinical practice.
Now that that is out of the way:
How we calculate heritability
We can measure the variance in a trait (we will call it variance in liability, L, and assume that it corresponds to a normally distributed variable) as a mixture of different effects: variance due to genetics (which we will call A, for "additive"), and variation due to environment. We can express this as:
L = A + E
The heritability, which is called h2 is the proportion of the total variance that is genetic. It is thus given by the equation:
h2 = A/(A + E)
The authors of the Bioscience Resource Project post assume that A and E are both measured within families, and thus E is a major underestimate of the environmental variance in the population. This is not what we do: in fact, E is measured between families, and thus is a good estimate of the population variance, assuming that our families are representative of the population. The BRP's claim that heritability values are inflated is a direct result of this statistical mixup.
So how do we measure these values? As both genetics and environment vary between families, the variance between families is A + E. We can measure A from identical (monozygotic, or MZ) twins, by assuming that they have perfectly correlated genetics, but non-correlated environment, so the shared variance (the Covariance) is A. The heritability can be calculated using this equation:
| | |
| --- | --- |
| h2 | = A / (A + E) |
| | = [covariance within MZ twinships]/[variance between families] |
Note that above, we assumed that MZ twins do not share a common environment; this is a bad assumption, because often they will (duh). So, instead, we model the liability as having some shared environmental component C (for common), so that
L = A + E + C
Assuming monozygotic and dizygotic twins share the same environment (a much less dodgy assumption), the covariance between monozygotic twins is A + C, and between dizygotic twins is 0.5 x A + C (as they have the same environment, but half the same DNA). We can thus calculate the heritability using
| | |
| --- | --- |
| h2 | = A / (A + C + E) |
| | = 2 x ([A + C] – [0.5 A + C]) / (A + C + E) |
| | = 2 x ([Covariance within MZs] – [Covariance within DZs]) / [Variance between families] |
So now we can calculate the heritability, taking into account shared environment, as a proportion of the variance in the population as a whole. All of this has been done assuming a normally distributed continuous trait (like height), but we can use something called liability threshold modeling to study yes-no binary traits (like "does he have diabetes?"), which works in pretty much the same way.
The heritability estimates can be turned into best case scenarios for prediction, which is how we know that for many traits, prediction could, if we could properly model all genetic risk, could be more clinically useful than standard predictors. We can also use the heritability to find out how much of the genetic effect (A) we have accounted for with our GWAS results; for virtually all diseases we find that the majority of genetic risk is still left undiscovered.
We do have to take into account of the fact that error bars from twin studies for rare diseases tend to be pretty large, due to the inability to find enough twins with the disease. For example, in Crohn's disease we generally find error bars that place h2 between 40 and 80%, so our estimate of how much heritability we captured with the 71 variants of our latest meta-analysis varies from 16-32%. Either way, we know that there is still a lot of heritability left to find.
Some (Less Specious) Objections
There are genuine criticisms of the method of calculating heritability that you need to consider before you take heritability estimates at face value.
We assume MZ twins share no environment that DZ twins do not also share. They both share age, family environment and intrauterine environment, but MZ twins also [edit: usually] share a placenta, and a somewhat different social environment (MZ twins may copy each other more, or be more likely to deliberately develop their differences). However, comparisons between twin studies and siblings-raised-apart studies in easy-to-collect traits like height show broadly the same heritability, suggesting that this effect probably isn't a major problem.
We assume that we can disregard gene/environment interaction, which can have complicated twin-sharing properties. One potential worry is that selecting twins with rare diseases could select for twins from a high risk environment, and there is some evidence to suggest that disease progression in high-risk individuals is more genetically determined than in low-risk individuals (e.g. odds ratios for obesity are larger for low-activity individuals)
We assume that DZ twins share half the genetic effect, i.e. that the correlation in risk is equal to the number of shared alleles (no gene-gene interaction): if this is false, heritability can be overestimated. We can get around this by extending the study to include other family members (e.g. a children-of-twins study), or by looking at twins raised apart and raised together, which allows us to model dominance effects.
Note that the assumption that the twins are representative of the general population is a big one, though in general people tend to go to lengths to make sure the twin datasets are representative (e.g. the Swedish and Australian twin registries aim to sample all twins born in their respective countries), and you can compare between twin registries to find how robust they are. However, you should be careful extrapolating heritability between populations (e.g. extrapolating heritability from European twin studies to African populations), and you should definitely not be using heritability within populations to try and infer genetic differences between populations. The general rule is that heritability only applies to a particular population, with its own values of E, A and C, and there is no simple "heritability" that can be defined independent of these different variances.
For a nice review of heritability in humans and animals, that discusses many of these issues in more detail, see this paper from Peter Visscher and crew. Interestingly, the Bioscience Resource Project post cites this paper, which makes their mistake somewhat surprising.
The imagine above is of the Carlsons Twins, two notably concordant (if you know what I mean) MZs. It is taken from their wikipedia article.