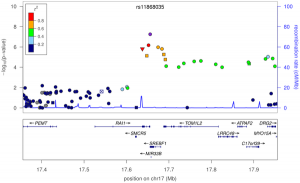 The Genomes Unzipped members have spent a lot of time discussing their 23andMe genotyping data, and therefore it makes sense to follow-up on the recent scientific publications from this company. This new publication from 23andMe is particularly newsworthy because while 23andMe had already reported new findings for common traits, this is as far as I can tell the first time that a direct-to-consumer genetics company has tackled a major disease. Here, this is Parkinson's disease (PD) a relatively common condition which has been a focus of 23andMe for a long time now. This 23andMe study identifies two new PD loci. They also replicated the vast majority of published findings, hence confirming the validity of their approach and confirming their role as a significant player in the field of common disease genetics. 
I should also mention that I was involved in a companion paper that will be published shortly in the same journal (only slowed down by technical issues, hopefully only a matter of days) and therefore my enthusiasm about this study may be somewhat biased.
So what is this study about?
Roughly two years ago 23andMe announced the launch of the Parkinson's Disease (PD) genetics Initiative. The idea was to use a grant provided by Google co-founder Sergey Brin, a man dedicated to promoting PD research, to make the 23andMe subscription nearly free for PD patients. Increasing the recruitment of patients would then enable larger scale genetic association studies. The price was chosen to be very low: purchasing for $25 a kit sold to the rest of the population for $399 is an attractive offer, especially when this offer is coordinated with the Michael J. Fox Foundation and the Parkinson's institute to attract the attention of PD patients. In addition to the scientific interest for 23andMe, this is also a remarkable advertisement for the company and it makes perfect sense for 23andMe to start such initiatives.
How successful was the recruitment?
It is hard to guess what the expectations really were, but initial posts suggested a long-term goal of 10,000 PD patients.  Overall, the recruitment appears to have worked well. In March of this year 23andMe announced that they had recruited close to 5,000 PD cases and 3,500 PD cases are reported in this recent paper. For these PD individuals the consent is identical to the one provided to non-PD customers and this large collection of controls provide a natural control set for the PD study. The number of samples is still the limiting factor though hence the need for a collaboration with the International Parkinson's Disease Genomics Consortium to provide additional evidence at these new loci (this collaboration forms the basis of that soon-to-be-published companion paper I contributed to).
What have they found?
The same (good) things most scientists find when they put together a new genetic association study better powered than the previous ones: additional loci that contribute to the risk of PD in the population. They also worked out heritability estimates for PD using modern techniques and found the genetic component to be comparable to Crohn's disease , but lower than type 1 diabetes and quite a bit lower than bipolar disorder. But I should say here that I find these heritability estimates rather counter-intuitive given the stark contrast in genetic findings between Crohn disease and bipolar disorder for example (and even PD). I guess the future will tell whether my concerns are justified.
What can they do in the future?
First of all they should (and certainly will) do what all researchers in the field do these days: combine their study with others to form a large-scale meta-analysis in order to identify new loci for PD. But beyond that, the possibilities offered to 23andMe go way beyond such conventional approaches. A key strength is the ability to use questionnaires to gather new data from cases or controls: family history, environmental exposure… So if a specific hypothesis comes up about the role of an environmental trigger, potentially in combination with a genetic factor, they will be in a position to obtain relevant data without genotyping more patients, just by sending requests for information to the individuals with usable genotype data. In a sense, they do not need to ask the right questions the first time, which is certainly a luxury that most researchers do not have. They can also extend the idea to other diseases and this process is certainly ongoing as well.
But they can do something even more unique: once DNA sequencing becomes available as a commercial product (and that should be quite soon), this vast collection of genotype data will show a large number of rare genetic variants of potential medical interest. It will then become possible to identify patients who carry these very rare genotypes and ask them what rare traits they may share as a consequence of this. This idea is similar to the one put forward by the Cambridge Bio-Resource (based in the UK), but on a bigger scale and not as localized geographically. My intuition is that as genetics move toward more applied and translational questions this resource will become very valuable. I certainly look forward to seeing that type of research being published.
The graphic at the top of the post is from Figure 1 of the PLoS paper, and shows one of the PD associated regions.