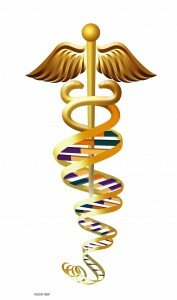 I have no strong family history of any disease, despite having 7 blood aunts and uncles and countless cousins. So when I sent my spit off to 23andMe at the start of the Genomes Unzipped project, I was expecting something very similar to Caroline's experience: a 5% increase in risk here, a 2% decrease in risk there, nothing that would really tell my anything about my health.
However, this was not my experience. Along with a pretty interesting Y haplogroup, I also had three unexpected and potentially worrying health results. I am a cystic fibrosis carrier, a hemochromatosis compound heterozygote, and have a strongly elevated risk of age-related macular degeneration. This cocktail of genetic disease certainly was not what I came to the test expecting!
After some thinking, I decided to take my test results to my GP, and see if there was any advice or testing he would recommend. In the end, my GP referred me to a clinical geneticist, which started a cascade of appointments which in turn led to a number of important changes in how I treat my own health.
What was most interesting is how the whole experience got me thinking about my health as something I am in charge of. I have since made a number of important life-style changes, some of them directly related to my genotyping results, some more generally to improve my overall health.
The point of this post is just to go through some of the experiences, what I have learned about specific conditions, and what changes I have made to my life since. In some sense, I feel like my experience is a case-study in what good outcomes can come from personal genomics, both for specific conditions, and more generally for how genetic data can change your own approach to your health.
Meeting the doctors
My GP seemed interested in the results, and in why I had ordered them, and what I was hoping to learn. However, he said that he didn't feel qualified to talk about the results in detail, and that he wanted to forward them to the Clinical Genetics department at the hospital. I was careful to stress that I wasn't pushing for a referral, and that I didn't want to waste the NHS's time and money if he didn't think it was worth it, but he seemed genuinely keen for me to see an expert.
The appointment with the clinical geneticist was far more detailed than I was expecting. It involved taking full family history, which didn't show anything to be worried about. She went through all the conditions, explaining what could and couldn't be done, and what I should look out for in the future. She was most concerned about the cystic fibrosis mutation, and spent a while talking about options for preconception testing, prenatal testing and pre-implantation screening, eventually telling me to make another appointment if and when I decided to have children.
I then had a follow-up appointment with my GP, who ordered a few more tests related to the conditions. We also talked about my overall health, did a weighing, and ordered a battery of other tests related to my weight. I also requested to be entered into the surgery's weight loss program (more on this later).
Neither my GP nor the clinical geneticist had ever had a patient with a direct-to-consumer genetic test before (though my GP seemed to have encountered various scams). Both were glad that I had come to them, and neither considered my appointment a waste of time. My GP seemed very positive about the whole experience, and said that he thought it was a potentially value experience for a patient (on the other hand, my GP also manages to seem pretty positive about everything, up to warts and rashes, so take that as you will). Conversely, while the clinical geneticist thought there was value in this testing for people like me (i.e. people who already know a lot about genetics), she was not pleased with the idea of lay-people having direct access to the information.
Hereditary hemochromatosis, or the hidden recessive disease
My parents both carry different mutations in gene HFE, which can cause hereditary hemochromatosis, a recessive Mendelian iron-overload condition which can cause organ damage (a disease of which Kate has experience). I inherited both copies, and so am a compound heterozygote for the condition. As recessive diseases only manifest when a mutation is inherited from both parents, these often show very little family history, and can come as a surprise.
Around 10% of people who developed HFE-related iron overload have the genotype that I have, which sounds serious. That said, a bit of digging shows that in fact around 2% of Europeans are compound heterozygotes for haemochromosis. While the risk of developing iron overload is strongly elevated in these people, a bit of quick maths shows that I still only have around a 1% chance of developing serious symptoms.
As it happens, hemochromatosis is very treatable and preventable. I have seriously reduced my red meat consumption (this'll also help with AMD, see below), and I am committed to regular blood donation with the NHS Blood Service, which stops your iron getting too high (both good things to do anyway). I am also having 5-yearly blood iron measurements. The doctors say that this combination of prevention and screening seriously reduces the risk of developing harmful symptoms to very low even for people with full-blown iron overload, so in my case it should drop my already-low risk to basically zero.
Cystic-fibrosis, or the unexpected carrier mutation
As I have already talked about elsewhere, I carry one copy of a mutation that causes cystic fibrosis. You need two copies of this mutation to show symptoms, so if I had children with another carrier, each child would each have a 1 in 4 chance of developing the disease. Most Mendelian mutations are pretty rare, but actually around 1 in 25 Europeans carry the cystic fibrosis variant, so the risk is not too small to be ignored.
The answer to this is relatively simple; the clinical geneticist said to bring along my partner for testing if we decided to have children. We could also do a more extensive carrier screening for lots of other known mutations, e.g. through a service like Counsyl. This would tell us if there were any recessive diseases (including cystic fibrosis) that we both carried mutations for. If there were, we would have the information to make informed choices.
Age-related Macular Degeneration, or the vagaries of inheritance
One major risk that jumped out of my genome was a 29% chance of developing Age-related Macular Degeneration (AMD), a progressive loss of vision in the elderly. This is compared to around 7% of the population as a whole, so this is both a high relative and a high absolute risk.
I had no family history of this disease. If you look at my parents' genotypes, you find that each has a mixture of protective and risk variants, giving them close to average risk. By chance, I inherited almost all of the risk variants, and almost none of the protective variants, giving me a highly elevated risk. This is a reminder that, while family history can be predictive, the vagaries of inheritance can always throw up sporadic genetic risk that could not be anticipated.
There isn't much that can be done about age-related macular degeneration. Smoking is a risk factor, and I don't smoke, so that lowers my risk. There seems to be a weak effect of red-meat consumption on AMD, and I have reduced the amount of red meat I eat to a few portions a week (which may knock a few percent off my risk). Obesity is a risk factor as well (see the next section). There are also a few more well-replicated genetic variants that aren't reported on by 23andMe, and these also bring down my risk a little to closer to 23%.
So, while they are certainly worth while, no amount of lifestyle change is likely to have a massive effect on my AMD risk. New treatments are becoming available (the NHS lists a number of them), and by the time I would develop the disease there will almost certainly be more. AMD is a degenerative disease, and most treatments only slow down the disease, so early diagnosis can be important. The clinical geneticist told me that most opticians would not be trained to notice the signs, and that I should see an opthamologist as soon as I started seeing symptoms.
Weight loss, or the general benefits of personal genomics
At the end of last year I weighed 120kg, with a BMI of nearly 34, rapidly approaching the "severe obesity" category. I had attempted dieting in the past, but this mostly correlated with episodes of depression and self-loathing, and in the long run only made things worse. For a long time this felt like a fact of my life, something that I was powerless to change; I had more or less resigned myself to developing diabetes and heart disease. From talking to other people in a similar situation, this feeling of resigned fatalism actually seems like a pretty common approach to people's own health.
However, as I started to engage with my health in other ways, my approach to my weight changed too. My weight, my blood pressure and my lipid levels, like my genotypes, were interesting facts about my life that I could act on, rather than depressing statistics forecasting my early demise. In fact, when I learned that I was showing attenuated liver function, probably as a result of fatty liver disease, I treated this as actionable medical fact, not as a depressing judgement.
My GP enrolled me in a weight loss program at that surgery. I started taking a food diary, altering my eating and purchasing habits, and doing more sport. To cut a long story short, I have since lost around 11kg, bringing my BMI down to 30, and my blood pressure looks healthier than ever.
From case study to population health
This post has taken me a long time to write (thanks for getting to the end!), and it is now well over a year on from when I initially got my results back. Part of the reason for this delay was that I wanted to make sure that my lifestyle changes were going to stick, once the initial buzz had worn off. Touch-wood, I am currently pretty confident that I have made lasting positive changes to my behaviour.
My own experience is only a case study, and is hardly evidence that direct-to-consumer genetics can reliably induce beneficial outcomes. The evidence from current research, such as Theresa Marteau's Cochran review of out-patient genetic testing, and the Scripps study of behavioural change amongst personal genomics customers, seems to show very little change in health-related behaviour (though Marteau's review did show evidence of that genetic data return can lead to improved dietary data). Currently, there isn't much good evidence on how personal genomics can drive health outcomes, and virtually none on the differential benefits of testing for different conditions and different ways of communicating the results.
I suppose my own experience, and the similar experiences of others, illustrates the potential positive impacts that personal genomics can bring. Personal genomics, and especially things like direct-to-consumer genomics where you are fundamentally in control of your own data, can help people engage in health, both specifically for conditions that they are at risk for, and more generally for their overall health. In my own (possibly extreme) case, it transformed health from something that passively happened to me into something that was I could learn about and change, a positive (and interesting) aspect of my life. I don't think this is a necessary, or even particularly common, outcome of personal genomic testing. However, I hope that new discoveries, technologies and methods of communication can allow more and more people to become engaged in their own health.