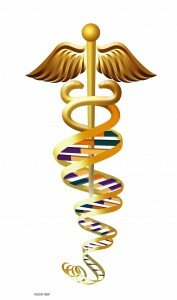 I have no strong family history of any disease, despite having 7 blood aunts and uncles and countless cousins. So when I sent my spit off to 23andMe at the start of the Genomes Unzipped project, I was expecting something very similar to Caroline's experience: a 5% increase in risk here, a 2% decrease in risk there, nothing that would really tell my anything about my health.
However, this was not my experience. Along with a pretty interesting Y haplogroup, I also had three unexpected and potentially worrying health results. I am a cystic fibrosis carrier, a hemochromatosis compound heterozygote, and have a strongly elevated risk of age-related macular degeneration. This cocktail of genetic disease certainly was not what I came to the test expecting!
After some thinking, I decided to take my test results to my GP, and see if there was any advice or testing he would recommend. In the end, my GP referred me to a clinical geneticist, which started a cascade of appointments which in turn led to a number of important changes in how I treat my own health.
What was most interesting is how the whole experience got me thinking about my health as something I am in charge of. I have since made a number of important life-style changes, some of them directly related to my genotyping results, some more generally to improve my overall health.
The point of this post is just to go through some of the experiences, what I have learned about specific conditions, and what changes I have made to my life since. In some sense, I feel like my experience is a case-study in what good outcomes can come from personal genomics, both for specific conditions, and more generally for how genetic data can change your own approach to your health.
Continue reading 'A case study in personal genomics'