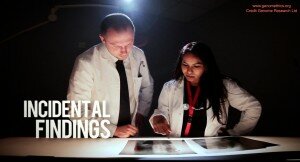 Dr Anna Middleton is an Ethics Researcher and Registered Genetic Counsellor, based at the Wellcome Trust Sanger Institute. She leads the ethics component of the Deciphering Developmental Disorders study, a collaborative project involving WTSI and the 23 National Health Service Regional Clinical Genetics Services in the UK. This project involves searching for the genetic cause of developmental disorders, using array-CGH, SNP genotyping and exome sequencing, in ~12,000 children in the UK who currently have no genetic diagnosis.
One of the issues raised by this, and many other research projects, is what should happen to 'incidental' findings, i.e. potentially interesting results from genomic analyses that are not directly related to the condition under study.  Here Anna discusses the research she is conducting on this topic as part of the DDD study, and provides a link to the DDD Genomethics survey where you can share your own views (I should also disclose here that both Caroline and I also work on the DDD study).[KIM]
Whole genome studies have the ability to produce enormous volumes of valuable data for individuals who take part in research. However, as a consequence of analysing all 20,000+ genes, whole genome studies unavoidably involve the discovery of health related information that may have actual clinical significance for the research participant.  Some of this will be considered a 'pertinent finding', i.e. directly related to the phenotype under study (e.g. the child's developmental disorder); some of this will be considered an 'incidental or secondary finding' in that it is not directly linked to the phenotype under study or the research question that the genomic researchers are trying to answer.
Continue reading 'Ethics and Genomic Research: 'Genomethics''