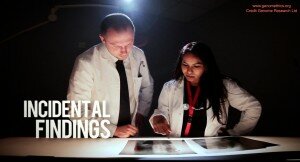 Dr Anna Middleton is an Ethics Researcher and Registered Genetic Counsellor, based at the Wellcome Trust Sanger Institute. She leads the ethics component of the Deciphering Developmental Disorders study, a collaborative project involving WTSI and the 23 National Health Service Regional Clinical Genetics Services in the UK. This project involves searching for the genetic cause of developmental disorders, using array-CGH, SNP genotyping and exome sequencing, in ~12,000 children in the UK who currently have no genetic diagnosis.
One of the issues raised by this, and many other research projects, is what should happen to 'incidental' findings, i.e. potentially interesting results from genomic analyses that are not directly related to the condition under study.  Here Anna discusses the research she is conducting on this topic as part of the DDD study, and provides a link to the DDD Genomethics survey where you can share your own views (I should also disclose here that both Caroline and I also work on the DDD study).[KIM]
Whole genome studies have the ability to produce enormous volumes of valuable data for individuals who take part in research. However, as a consequence of analysing all 20,000+ genes, whole genome studies unavoidably involve the discovery of health related information that may have actual clinical significance for the research participant.  Some of this will be considered a 'pertinent finding', i.e. directly related to the phenotype under study (e.g. the child's developmental disorder); some of this will be considered an 'incidental or secondary finding' in that it is not directly linked to the phenotype under study or the research question that the genomic researchers are trying to answer.
There is no universally accepted definition of what an 'incidental finding' is, with some feeling it should only relate to clinically significant, even only actionable conditions, whereas others feel it relates to any genomic data, including that which reveals non-paternity or ancestry information.  What should be done with this potentially useful data?  What obligations do genomic researchers have to research participants and what might research participants want to know?
Many feel it is unethical to withhold incidental findings that have the potential to affect health decisions. 'Even pure scientists can and should advance research subjects well-being and respect their autonomy by making appropriate disclosures of potentially significant incidental findings' (Miller, Mello et al. 2008). Others feel it is too soon to be offering such information, particularly in a research context, where clinical interpretation may be difficult.
There has been much published on the attitudes of lay members of the public, researchers and health professionals towards the sharing of genetic information pertaining to single genes.  However, as whole genome research is so new there are limited equivalent social sciences studies that evaluate how genomic information should be shared and communicated.
There is knowledge and experience from the medical imaging arena to guide us on the practice of sharing incidental findings and indeed clinical geneticists have been working with incidental findings, for example from karyotyping and latterly from array CGH, for quite a while.  What marks genomic research as different is the potential for hundreds of different findings of varying interest and significance (and which we have varying ability to interpret accurately), all potentially available in one go.
The debate amongst genomic researchers, health professionals, policy makers and ethicists about what genomic data could, or even should, be shared with research participants and how such sharing might work in reality is far from being resolved.  Much of this discussion has, to date, been based on opinion, conjecture and anecdotes; as yet, there are no large-scale empirical studies that assess the attitudes of the various stakeholders about the sharing of genomic data within a research context.
We aim to address this by exploring these issues within a new ethics and genomics research study ('genomethics') that is being conducted as part of the 'Deciphering Developmental Disorders' (DDD) project. Anyone is free to participate: members of the public, genomic researchers, genetic health professionals, laboratory staff and families recruited to the DDD project.  An independent film-maker has been employed to create the films that provide information about genomics, these are integrated into the questionnaire and make for an interesting questionnaire-completion experience.
If you are reading this blog, you are eligible to participate! 
The online questionnaire is here: www.genomethics.org
Feel free to discuss any of the issues raised by the questionnaire in the comments below.