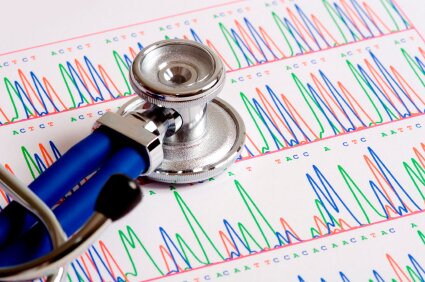 There is a real "wow" paper out in pre-print at the journal Genetics in Medicine. It is a wonderful example of the application of cutting edge sequencing technology to solve a medical mystery. Even better, the authors also include an auxiliary discussion about the medical and ethical issues surrounding the diagnosis, which raises some interesting issues about the transition from research to clinical sequencing.
The Case
A child manifested severe inflammation of the bowel at 15 months; antibiotics failed to clear it up, and he started to lose weight. Standard treatments seemed to have only sporadic effects, and only severe treatment with immunosuppressants, surgery and full bowel clearing could slow down the disease, which is not a long term solution. No cause could be found; the patient's active immune system seemed to be acting abnormally, but all tests for the known congenital immune deficiencies came back negative. The doctors could try a full bone-marrow transplant, but without knowing what was causing the disease, and where it was localised, they had no way of knowing if such an extreme intervention would be successful.
Such a severe and early onset disease is likely to be genetic, but testing immune genes at random to find the mutation could take years before it turned anything up. Meanwhile, the child was seriously malnourished, and at times required daily wound care under general anaesthetic. A few years ago this might have been the end of the story.
Getting At The Cause
However, in this instance the doctors decided to order a whole-exome sequence. The 16,000 variants discovered were whittled down in the way that has now become standard, and a single coding variant, predicted to be highly damaging, and not seen in >2000 healthy individuals, was found and clinically validated. The variant is in the X-chromosome gene XIAP, a gene that is known to cause the leukocyte disorder XLP. In retrospect, this make sense, as the authors discovered that previous cases of XIAP-related XLP also showed bowel inflammation. The high risk of death associated with such mutations (most XLP patients don't live past 10) made the decision to perform a marrow transplant more urgent.
The child had the marrow transplant with few complications, and was eating solid food within 42 days. As XIAP is also expressed in the lining of the gut, there was no guarantee that the transplant would cure the disease, but over the 5 months since the operation the gastrointestinal symptoms have not reoccurred, suggesting that the defect was in the marrow-derived white blood cells and not the gut itself.
The Future of Medical Sequencing
Oddly, this is not the first case of this has happened. A similar paper in 2008 detailed a linkage study of early onset inflammatory bowel disease in an inbred family; the authors found mutations in the receptors of the immune system protein interleukin 10. IL10 is more specific to white blood cells than XIAP, so it is slightly (but only slightly) less surprising that the bone marrow transfer in this case also caused a near-miraculous healing.
Moving beyond inflammatory bowel disease, last year we saw whole-genome sequencing used to diagnose a case of sitosterolemia that was missed by standard tests. This sort of genomic diagnostic technique plays out on a larger scale in projects like DECIPHER, which attempts to identify severe mutations in children with developmental disorders.
Exome sequencing is getting cheaper very fast, often a well-equipped facility can do it for under a thousand pounds. The authors of the Genetics in Medicine paper discuss the cost of the process, and suggest that whole exome sequencing may soon be cheaper than standard iterative testing for immune deficiency patients. Analysing all this data takes resources and expertise, but so does sequencing dozens of candidate genes. 2nd generation sequencing technologies tend not to be clinically certificated (though they are working on it), but that is easily got around by sending off your proposed causal mutation for CLIA-certified capillary sequencing.
The age of medical sequencing is coming fast, and I expect that it will not be long before whole-genome sequencing of severe early onset diseases is routine. It will not always give a clear answer, and will directly suggest a treatment even less often, but as cases like the ones above show, it will be a very powerful tool in the doctor's diagnostic arsenal.