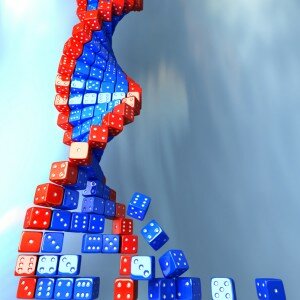 Out in Nature this week is a paper by three Genomes Unzipped authors reporting 71 new genetic associations with inflammatory bowel disease (IBD). This breaks the record for the largest number of associations for any common disease, and includes many new and interesting biological insights that you should all go and read about in the paper itself (pay-to-access I'm afraid) or on the Sanger Institute's website.
One thing that we did not discuss in the paper was genetic prediction of IBD (i.e. using the risk variants we have discovered to predict who will or will not develop the disease). In this post I want to outline some of the situations in which we have considered using genetic risk prediction of IBD, and discuss whether any of them would actually work in practice.
Tests given to healthy people
There is often a lag of many years from first onset of IBD symptoms to diagnosis, and up to 20% of cases go undiagnosed in older patients. Now, we cannot diagnose IBD from a patient's genome, and in practice we never will be able to. However, can we use a genetic test for IBD variants to help improve diagnosis rates and decrease lag?
We could imagine genotyping healthy people and use our new IBD variants to find a "high risk" group that we can monitor more closely. How well would this work? Given the variants reported in the paper, the answer is "not very well". Suppose we take people in the top 0.05% of IBD risk. Even in this high risk group only 1 in 10 people will get IBD. Even worse, 99% of real IBD patients WON'T be in this group, and so would be missed by the test!
How about if we instead introduced a check on a patient's genome that can be queried by a GP when a patient presents with abdominal pain (one symptom of IBD). We will assume (plucked more or less out of the air) that 10% of patients with abdominal pain have undiagnosed IBD. How could a genetic test help GPs and patients? We could give some of these patients a confident "nothing to worry about" result (<1% chance of developing IBD), but only 10% patients would be told this. We could give another 7% of patients a "something to worry about" result (1 in 3 chance of developing IBD). Still, 83% of patients will get an inconclusive result, and who knows what any given GP would do with that information.
Tests given to IBD patients
Instead of testing healthy people, how about testing current IBD patients? First up, one in ten IBD patients were flagged up only as possible IBD cases when they first presented with symptoms: but for each such "possible" IBD patient there is a second "possible" patient who will turn out not to have the disease. Can our genetic test help here? Well, in practice only 1 in 50 of these patients could be told they probably have the disease (>95% chance), and a further 1 in 50 could be said to likely never get the disease. Another 40% could be classified either way with 80% certainty. So one in 25 patients would get a high confidence prediction (likely altering their treatment), and just under a half would get a balance-of-odds prediction that may be hard to interpret.
Another 5% of IBD diagnoses are overturned within the next five years. Could we predict who these people are using genetics? Looking at this, it seems the best we could do is flag up a "possibly not IBD" group containing the 10% of IBD cases with lowest genetic risk, and prioritise them for further investigation. But this would involve investigating 4 real IBD patients for every false IBD case found, and would still only catch a third of the false IBD diagnoses.
One last case: There are two major forms of IBD, Crohn's disease (CD) and ulcerative colitis (UC). An effective surgical cure for severe UC involves complete removal of the colon. However, around 5% of UC cases undergoing this treatment turn out to be misdiagnosed CD cases: this treatment does not cure CD, and so in retrospect should not have been given to these patients. Can genetic risk prediction help to prevent this from happening? The answer, again, is ambiguous. If we stop the 10% of these operations for patients at highest risk of Crohn's disease, we could prevent 28% of these cases. But for every 10 high-risk patients that we halted surgery for, 8 would have likely responded well to the treatment that we denied them. Is this a price worth paying?
Prediction in the real world
Those of us who work with both statistics and patient data have a dream that is sometimes called the Bayesian differential diagnosis. In this scheme a mighty algorithm would take in a patient's symptoms and compare them against all the entries in a database of diseases. This algorithm would then produce a probability for each disease – 26% IBD, 35% bacterial gastroenteritis, 0.1% diabetes, and so forth. It would then suggest tests that can distinguish between the high probability diseases, and keep doing this until one disease was a clear winner. Think Numb3rs meets House meets Deal Or No Deal.
In this system genetic risk prediction could be easily slotted in, setting our prior expectations for all diseases based on the patient's genome. However, this is not how our medical system works. Instead, specific tests must have specific results that lead to specific actions that alter patient care. A "2-fold increased chance of developing IBD" result does not help here unless it comes with a statement of what to do about it.
In a vacuum IBD can be predicted pretty well: genetics predicts IBD better than BMI predicts diabetes, for instance. However, the challenge is finding a situation where we have good enough prediction, used in a clever enough way, to actually improve patient care. I think we are still waiting to find the "killer app" of IBD prediction.