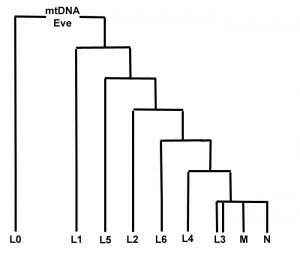 Following the Genomes Unzipped post entitled "Exaggerations and errors in the promotion of genetic ancestry testing", we received a request to reply from Jim Wilson. Jim Wilson is the chief scientist of BritainsDNA. He is not the one who gave the BBC interview that prompted the Genomes Unzipped post but he is a key contributor to the science behind BritainsDNA. We are keen to tell both sides of this story and this post is an opportunity for BritainsDNA to state their arguments and motivation. -VP
I saw Vincent Plagnol's post here on Genomes Unzipped about the promotion of genetic ancestry testing and felt compelled to respond. While I did not give the interview that was the subject of the post, I am the chief scientist at BritainsDNA and I feel that the post was biased in presenting only one side of the story and thus misrepresenting the situation. Perhaps I can offer another perspective for readers.
The motivation for Vincent's blog post was described as the fact that questions raised by Vincent's colleagues had not been satisfactorily answered. However I should point out that these questions were not in our view presented to us by his colleagues in a constructive manner; rather they only came to light as part of what we considered to be highly defamatory emails. The blog post, however, fails to detail the defamatory comments but rather follows very closely a letter we received in August, word-for-word in some instances. What is also not mentioned anywhere is my response of August 29th which answers in detail the questions in the letter and thus in Vincent's post, but which was met with a dismissive three liner email in response. I shall quote from my letter below and hope that this makes clear that there are differences in interpretation, as well as clarifying and accepting that there were some errors in the interview.
More importantly, while the post does allude to the lawyer's letter the company felt forced to send Vincent's colleagues, the reasons for this are completely misstated; this was nothing to do with academic debate. The original emails I and others received were in our view grossly defamatory to both Alistair Moffat and the company. After repeated attempts at engagement (including the letter I quote from below) failed to elicit any retraction, we felt forced to seek legal advice, which accorded with our view, and therefore our lawyers sent Vincent's colleagues a letter to ask that they undertake not to repeat what we considered to be defamatory statements, that for example accused us of fraud. This was done to protect the business, and the jobs of its staff, a response any company would take. We did not, and do not, wish to prevent scientific debate on the topic. Our lawyers' letter made it very clear that we encourage debate and had no difficulty with differences of view, which has always been our position on this matter.
Vincent comments on the Y chromosome and mtDNA and notes that BritainsDNA is very explicit about the data they provide. I responded to the same question in August as follows:
While it is true that the Y chromosome and mtDNA only represent a small proportion of our ancestral lineages, they are the ones about which we can learn the most information. A focus on the Y chromosome is popular with the public, probably for the same reasons that traditional genealogy often focuses on the surname – the custom in western countries that the surname is inherited from the father, just as the Y chromosome is; people identify themselves with this particular lineage. The Y chromosome is also special because of its length, which of course is inherited whole from father to son. Two individuals sharing a Y chromosome share a similar amount of DNA to a pair of third or fourth cousins. It is in most cases the single largest block of DNA a man inherits from any ancestor eight or more generations ago.
The remark in the interview about a subsidy is noted by Vincent and comparison is made to pricing by other companies. The sentiment was that many people were working for free to get the effort off the ground and had made investments from our own funds. There is no further subsidy. BritainsDNA's prices are actually lower than those provided by some other UK-based companies. One British company, for instance, markets testing of the Y chromosome and mtDNA for £369, almost double the price at BritainsDNA.
Vincent discusses mention of Adam and Eve in the interview, and my response in August was as follows:
"The claim that Adam and Eve really existed, as you suggest, refers to the most recent common ancestors of the mtDNA and non-recombining part of the Y chromosome. I don't agree that there is nothing special about these individuals: there must have been a reason why mitochondrial Eve was on the front cover of Time magazine in the late 80s! You will be aware that it would take the best part of a one hour documentary to explain the variation in time to most recent common ancestor at different genetic loci, differences in effective population size between the Y, X and autosomes, and all the other subtleties you list. As stated above, in the material returned to BritainsDNA customers it is made clear that these are only two lineages among many others."
He also considers Berber and Tuareg ancestry, to which I also replied earlier:
"With regard to the Berber ancestry, I find it amusing that you consider that an ancient Scottish migrant enjoying reproductive success in the Sahara could explain the distribution of the M81 Y chromosome lineage in North Africa. In some Berber villages, over 80% of the sampled men carry this marker. Neither do I find it likely that the sharing of this haplotype between some modern day Scots and Berbers is due to descent from a common ancestor in some other part of the world, given published work inferring the origin of M81 about 5600 years ago in the Maghreb (Cruciani et al Am J Hum Genet 74: 1014-22, 2004; Semino et al Am J Hum Genet 74: 1023-34, 2004; Arredi et al Am J Hum Genet 75: 338-45, 2004)."
Alistair's references to Ian Kinnaird, Sheban DNA and the Cohen Modal Haplotype are picked up. I wrote in August:
"Alistair acknowledges that he used the wrong word, mutations, rather than branches, when referring to the L1b1a1 mtDNA. The figure for the frequency of the Cohen Modal Haplotype among Cohanim was misstated, as was any specific claim about the Queen of Sheba's DNA, however I disagree that we cannot know if there were HV lineages present in the relevant region 3000 years ago."
I note that Ian Kinnaird belongs to a sub-Saharan African subclade of L1b, not one of those described by Cerezo et al as being of European origin.
As I also pointed out in August, of course it would be better if these errors had not slipped in, but it must always be borne in mind that in five minute radio interviews time is very short and when live the words are "as spoken"; a person might not use identical words if given the time to write out a text of the same length.
Vincent goes on to address the approach known as phylogeography, which was also raised in the August correspondence. This is a well-accepted approach in population genetics of humans and other species. As many will know, phylogeographic inference formed one of the first main planks of evidence for the recent African origin of modern humans. There are regularly papers in the American Journal of Human Genetics using this approach. Contrary to Vincent's description, phylogeography does not simply assume an origin of a group in the region where it is most common today. The essence of phylogeography is to make inferences on the basis of the geographic distributions of the clades, taking into account their positions in the gene genealogy and thus predicting where ancestral haplotypes arose. We first learnt that modern humans originated in Africa because in the mtDNA gene tree, the first six branches, the deepest branches, are African. Only after the seventh branch (L3) do we observe non-Africans. Because there are Africans on both sides of each of the first six splits in the tree we can infer that the ancestors at these split points were also African. This is not dependent on frequency.
Most or perhaps all genetic ancestry testing companies make use of the principles of phylogeography, including 23andMe, FTDNA, Genographic, BritainsDNA, etc. Use is also made of other information, such as that deriving from ancient DNA studies, from particularly deep pedigrees, from surname associations, etc. The key issue here is that the customer is well educated about what is certain and what is less certain, as is pointed out in all results returned by BritainsDNA, ScotlandsDNA and IrelandsDNA.
The resolution BritainsDNA, ScotlandsDNA and IrelandsDNA provide customers matches 23andMe for mtDNA and is considerably more detailed for the Y chromosome, as many markers are included which were discovered (e.g. by the 1000 Genomes project) after the last 23andMe chip design. We are aiming to launch a genome-wide product in 2013, however unlike for autosomal analyses, what is of course important for the Y chromosome is not the sheer number of markers, but how informative they are. Many thousands of markers discovered in China or from the deeper parts of the Y chromosome tree will not enhance the information available to most Europeans interested in their paternal line ancestry over and above 500 carefully chosen markers.
We have an extensive programme of research designed to make contributions to the understanding of population history and actively engage with the public.
Debate about DTC testing is important and healthy, but should be carried out in a balanced and constructive manner avoiding aggressive and defamatory commentary.
Jim Wilson DPhil (Oxon) FRCPE
Chief Scientist, BritainsDNA
Corrected 03/01/2013: the correspondence mentioned was sent on the 29th of August, not the 29th of July as originally stated.