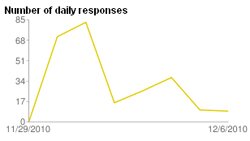 Thanks to everyone who participated in last week's reader survey, which is now closed. We received 252 responses (excluding Genomes Unzipped members), which is fantastic. I've made an anonymised version of the results (with names, email addresses and all free-text fields removed) available here.
We'll be breaking down the data over the next week or so, but I wanted to draw attention to some of the more interesting immediate findings here. Please bear in mind that this was not a scientific survey, and the respondents are a wildly biased sample from the general population, so the results are absolutely not representative of the broader population.

Demographics
Readers who responded to the survey were predominantly male (63%), with European ancestry (90%, with only 21% indicating at least some non-European ancestry), highly educated (only 5% had no tertiary education, and 41% had a PhD or equivalent), and mainly from English-speaking countries (63% from the US, 13% from the UK). There was a fairly broad range of ages – roughly 50% of our readers are between 20 and 40, but 29% are over the age of 50. Exactly half of the respondents currently have children, with a further 18% planning to have kids at some stage.
Our readers generally have a strong background in genetics: 37% of them described themselves as "experts" in genetics, and a further 38% said they would be able to "explain key genetic concepts to others". Nearly 40% of the respondents described themselves as research scientists working in genetics/genomics.
Genetic testing
A remarkable 65% of our readers have had at least one genetic test.  The most popular test by far was 23andMe's complete scan – over 50% of the survey respondents had done this test. Personal genomics competitors deCODEme, Navigenics and Pathway Genomics were well behind, capturing 7%, 4% and 3% of respondents, respectively. Genetic genealogy tests were more popular: 17% and 20% of readers had looked at Y chromosome and mitochondrial DNA markers, respectively, and 12% had taken Family Tree DNA's Family Finder test. Six respondents reported that they had complete genome sequences: 1 from Knome, 2 from Illumina and 3 from "other sources".
In terms of motivation for having tests done, the most popular response was simple intellectual curiosity (89%). Interest in health-relevant information (58%), interest in deep ancestry (54%) and interest in genealogy (49% for "tracing my historical family tree" and 33% for "finding new living relatives") were also reasonably popular.
Of those individuals who had taken a direct-to-consumer genetic test, over 50% discussed the implications with their family beforehand and 93% discussed their results with their families after taking the test, but only 34% discussed their results with a clinician. Around 70% of people who had taken a genetic test had not changed their behaviour as a result, but 14% reported altering their diet, 11% reported increasing their exercise levels, and 8% said they had taken a medical test or increased screening as a result.
We asked if people had experienced direct harm from a direct-to-consumer genetic test or knew of someone else who had, and 10 people (4%) replied that they had – we'll be getting in touch with some of these people for more details and writing that up as a separate post. [Added in edit 10/12/10: On closer inspection of the text provided by respondents (see comments) only two respondents out of 166 (1.2%) who had taken genetic tests reported negative experiences affecting them directly, one referring to inadequate interpretation of a pharmacogenomic test and a second reporting never receiving results after having paid for a test with a Canadian company. There were no reports of serious medical harm resulting from receiving results from a DTC test. Again, we'll discuss these responses in more detail next week.]
Inevitably, we asked people how much they would pay for a complete genome sequence. Only 5% of respondents said they planned to never get their genome sequenced. Nearly 90% of respondents would pay $100, 58% would pay $500, and 26% would pay the "arbimagical" $1000 value often touted as the tipping point for widespread adoption of genome sequencing. A single respondent said he would pay more than $10,000 (the same individual said they had already been sequenced by Knome, so this is apparently not just idle speculation).
We also asked about people's willingness to donate their genetic data to a project like Genomes Unzipped under various conditions, to get a sense of public interest in this possibility (the project is currently exploring options for expanding to include other individuals, but I should emphasise that we have not yet decided whether or not this is an ethically, legally or logistically feasible option). Surprisingly, the profile of responses was nearly identical when we asked about genome scan data (e.g. from 23andMe) and complete genome sequence data, suggesting that most people view the release of both types of genetic data in much the same way: around 10% said they wouldn't consider donation under any circumstances, 36% would consider it if there was a guarantee of anonymity, 33% would donate without a guarantee of anonymity so long as their name wasn't publicly linked to the data, and around 20% of respondents (about 50 people) would donate their data with no strings attached.
Ethical challenges of genomics
We asked two very crude and preliminary questions about attitudes towards genomics, as a kind of pilot for a more detailed survey down the line. Briefly, around 50% of respondents thought that newborn babies should routinely have their genomes sequenced once the technology to do so becomes affordable, and 70% of readers felt that parents/guardians "should be able to consent minors for direct-to-consumer genetic testing". These figures alone are interesting, but they become more interesting when we break them down by demographic parameters: for instance, 59% of females felt that newborns shouldn't be sequenced vs only 40% of males. We'll dig into this more in a later post.
Finally, we asked a free text question about which public misconceptions about genetics readers were most concerned about, and how they think those misconceptions should be addressed. We've removed responses to this question from the public data for data privacy reasons, but we'll blog about them soon.