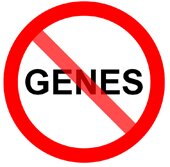 On Monday, the Guardian published an article by plant geneticist Jonathan Latham entitled "The failure of the genome". Ironically given this is an article criticising allegedly exaggerated claims made about the power of the human genome, Latham does not spare us his own hyperbole:
Among all the genetic findings for common illnesses, such as heart disease, cancer and mental illnesses, only a handful are of genuine significance for human health. Faulty genes rarely cause, or even mildly predispose us, to disease, and as a consequence the science of human genetics is in deep crisis.

[…] The failure to find meaningful inherited genetic predispositions is likely to become the most profound crisis that science has faced. [emphasis added]
The claim that human genetics is in crisis is not novel. Latham made an extended version of this argument in a blog post at the Bioscience Resource Project in December last year, which Daniel critiqued at length at the time, and which contained a schoolboy statistical error corrected by Luke. And Latham is by no means the only genome-basher out there: the 10 year anniversary of the sequencing of the human genome triggered a spate of "genome fail" pieces (see Nicholas Wade, Andrew Pollack, Matt Ridley, and a particularly horrendous example from Oliver James, for instance).
We suspect for most of our readers Latham's rather hysterical critique will fall on deaf ears, but it is part of a bizarre and disturbing trend that needs to be publicly countered. Here are several of the places where Latham's screed gets it patently wrong:
Complex disease genetics ≠ all human genomics.
This article, and many like it, poses the issue as a general failure of human genomics, but then proceeds to critique only one sub-field: complex disease genetics, the study of multifactorial diseases such as type 2 diabetes and heart disease. Complex disease genetics is in some ways an easy target: in its most modern form the field is only four years old, with its birth dating to the first genome-wide association studies (GWAS) published in mid-2007. In that time the field has uncovered an astonishing number of (independently replicated) genetic variants associated with human disease, but our understanding of the genetics of complex traits is still in its infancy.
Yet Latham and his ilk allow their sniping at complex disease genetics to ricochet off into the broader field of human genomics. Whatever you feel about the success of complex disease genetics, proclaiming "the failure of the genome" does an indisputable disservice to the areas where genetics has made a huge difference both to science and to the lives of patients: for instance, the unravelling of hundreds of severe inherited diseases, and major advances in our understanding of the biology of cancer.
We've found plenty of validated genetic variants associated with common diseases
Latham states flatly: "The most likely explanation for why genes for common diseases have not been found is that, with few exceptions, they do not exist." Yet "genes for common diseases" certainly do exist, and (as noted above) they have been found in vast quantities over the past four years.
These associations are not false positives. They have been found in enormous studies (frequently including tens of thousands of disease patients) looking at hundreds of thousands of markers throughout the genome, and systematically, independently replicated in separate populations using stringent statistical approaches. We have learnt orders of magnitude more about the genetic basis of common diseases in the last four years than we learnt in all of the preceding decades.
Latham could focus his criticism on the effect sizes or predictive utility of the discovered variants; there are reasonable points to be made here. However, instead he chooses to cast his net far too wide, dismissing complex disease genetics entirely with a rhetorical flourish. This is a contemptible manoeuvre.
Even for complex traits, the genetic variants discovered are already more predictive than many environmental risk variables
Latham argues that there has been a "failure to find meaningful inherited genetic predispositions" for common diseases. He is wrong for any reasonable definition of "meaningful". For most common diseases, while the majority of genetic risk remains hidden, we have uncovered an appreciable fraction of the inherited risk (typically 10-20%) using a single technique (GWAS). This fraction is non-trivial – in fact, the genetic variants uncovered by GWAS frequently explain more of the risk of these diseases than known environmental risk factors.
For weakly genetic diseases, such as type 2 diabetes, known genetic factors account for around 2% of the variance of the disease. Compare this to 1% for smoking, and 9% for body-mass index. For more strongly genetic diseases we can do far better. For Crohn's disease, a form of inflammatory bowel disease, newly discovered variants can explain around 12% of variance, compared to 3% for smoking (the strongest measurable non-genetic predictor of life-time risk). The biggest success story of the new breed of genetic studies is age-related macular degeneration, a common eye disease, for which recently discovered genetic variants can explain around 50% of variance in disease risk.
[By way of method, in each case I've calculated the percentage of risk variance explained using the method laid out by So et al earlier this year. -LJ]
The assumptions of twin studies have not gone untested
Out of necessity for this argument, Latham attacks twin studies, one of the primary methods used to establish to genetic component of nearly all complex diseases. We do not want to shoot down discussion of the potential pitfalls of twin studies, as there are many, and there are important discussions to be had about them. Not enough people understand their methodology, and fewer still dig deeper into the subtle effects that can influence their heritability estimates. Unfortunately, Latham is not on the side of the angels in this matter; when we wrote about his last post, we noted that he had made an embarrassing error betraying his lack of understanding of the methodology, and while he manages to not make as many egregious mistakes this time around, his treatment still fails to grasp the issues.
The twin study methodology is simple, but it does make a number of assumptions. The one that Latham cites is that the environments of identical twins are about as similar as the environments of non-identical twins, but they also assume that genetic risks combine together in a simple way. However, in no way have these assumptions been "swept aside and all but forgotten", as Latham claims; in fact, they have been carefully tested. Large reviews of twin studies themselves show that there is no large, systematic deviation from the assumptions. In addition, comparisons of heritability estimates with independent, non-twin-study methods show no systematic differences; these methods include old ones like siblings-reared-apart studies, and newer methods such as sibling identity-by-descent sharing, which are notable for getting around all traditional criticisms of twin studies by directly measuring the genetic relatedness of siblings. If dominance or identical vs non-identical twin differences were interfering with our estimates of heritability, and the assumptions of twin studies were being violated, it would have shown up in these studies.
Fully explaining disease risk is not essential to provide insight into disease
Lathan makes a fundamental error when he equates explaining disease risk and understanding a disease. We could understand all the factors that predispose individuals to a disease, and yet learn nothing about it. Likewise, even small risk factors can shed important light on complex diseases.
As noted above, the genetic variants discovered so far explain only a fraction (albeit a useful fraction) of complex disease risk. However, the usefulness of this research far outweighs the risk it explains; it gives us a database of regions of the human genome that are involved in each disease, containing a range of genes with a variety of functions, each of which we can then investigate biologically. This sort of research has uncovered new mechanisms involved in a range of diseases: for instance, the previously unappreciated importance of a biological process called autophagy in the etiology of Crohn's disease, and the role of lipid metabolism in Alzheimer's. The better we understand the mechanism of disease, the more likely we are to be able to identify drug targets for pharmaceutical intervention.
There's no need to hype the results here: this doesn't mean that cures for all common diseases are just around the corner. However, without an understanding of the biological pathways that underpin human disease, drug development is little better than random chance, and GWAS have unquestionably provided novel insight into these pathways.